Long-Range Identification & Tracking (LRIT)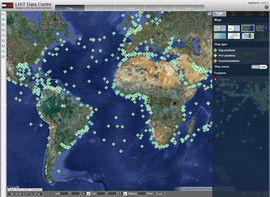 Pole Star offers a comprehensive end-to-end LRIT service that consists of the most cost-effective and expandable Data Centre solution available. We operate Data Centres on behalf of over 40 flag administrations, monitoring more than 16,000 ships, including those of Panama, Singapore, Liberia, and the Marshall Islands – the largest fleets in the International Maritime Organisation's LRIT network.
Flags appointing Pole Star as their Data Centre provider will be supported by a professional and committed Authorised Service Provider (ASP) dedicated to the provision of the most sophisticated and technically advanced schedule of LRIT services. Pole Star personnel attend all IMO Maritime Safety Committee meetings and LRIT working groups and are well placed to monitor and implement any amendments relating to LRIT regulation.
As a result of our unrivalled breadth of experience, Pole Star understands the entire range of managerial, technical and financial compliance measures necessary to enable a flag to meet its international obligations.
Contact us to learn how Pole Star can help with your Data Centre/ASP needs.
---
Key Features
Integration of the Data Centre to the international LRIT network
Management of the Data Centre
Initial terminal compliance testing and certification in conjunction with the ship operator
Registration of vessels into the Data Centre
Management of Data Centre-to-Data Centre billing arrangements
Management of the Data Centre annual audit conducted by the International Mobile Satellite Organisation (appointed as LRIT Coordinator)
Provision of on-site training and annual performance review meetings
---
Why use Pole Star for Data Centre/ASP services?
Data Centre provider for 40 flags including Singapore, Liberia, Marshall Islands & Panama.
Authorised Service Provider for 90 flags
More than 16,000 LRIT vessels monitored
24/7 multilingual support
13 year record of robust security, system availability and data confidentiality
Proven managerial and technical expertise
Shipboard equipment compliance testing and certification in conjunction with the ship operator
---
LRIT Architecture Diagram