Maritime Domain Awareness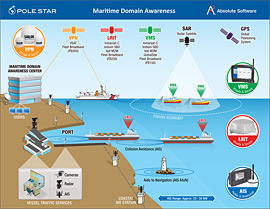 Maritime domain awareness (MDA) is defined by the International Maritime Organization as the effective understanding of anything associated with the maritime domain that could impact the security, safety, economy, or environment. The maritime domain is defined as all areas and things of, on, under, relating to, adjacent to, or bordering on a sea, ocean, or other navigable waterway, including all maritime-related activities, infrastructure, people, cargo, and vessels and other conveyances.
As a leading provider of satellite-based tracking services, Pole Star specialises in communicating with a wide range of hardware and satellite technologies including Inmarsat, Iridium and AIS. By integrating tracking data from multiple sources, Pole Star can provide a situational picture of global maritime activity, in a way that providers constrained to a single satellite network or specific hardware cannot.
Pole Star has been dedicated to the provision of commercial marine tracking, regulatory SSAS / LRIT services, and regulatory fisheries / VMS services to industry, Governments, and Regional Fisheries Management Organisations since 1998. We currently supply fleet management solutions to more than 1,250 clients with operational responsibility for approaching 31,000 ships and 6,000 fishing vessels. We provide fisheries monitoring services to over 35 countries, covering in excess of 50 million square miles of fishing territory worldwide and provide LRIT Data Centre services to over 40 governments, including 4 of the largest Flags in the LRIT network.
Pole Star's state-of-the-art tracking platform comprises advanced GPS tracking functionality, including two-way communications (with compatible hardware) and troubleshooting. Our mapping services include Google street and satellite maps, as well as C-map marine charts, while full search capability makes it simple to manage thousands of vessels. Custom overlays like weather and high-risk, environmental and regulatory zones allow you to create a complete picture, layer by layer, of the maritime situation.
Contact us to learn how Pole Star can help with your Maritime domain awareness needs.
---
Key Features
Satellite and Terrestrial AIS data feeds
IMO Compliant LRIT Data Centre for Flag, Coastal and Port state functions
Integrated Fisheries Vessel Monitoring Systems (VMS) for Exclusive Economic Zone management
Provides a single Common Operating Picture (COP) covering all data types & formats