LRIT Services to Shipowners
LRIT Conformance Testing
Pole Star is the world leader in LRIT testing and, to date, has completed more than 40,000 LRIT tests on behalf of global ship operators. Pole Star is an Authorised Testing ASP for over 90 Flags and provides operators with a convenient, secure and easy-to-use web-based testing platform, allowing them to initiate a test and review its progress at any time.
Find out whether Pole Star is a testing ASP for your Flag
---
LRIT Conformance Test Reports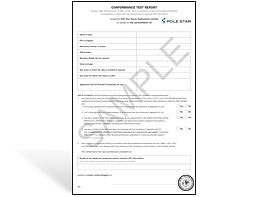 LRIT Conformance Test Reports (Certificates) are the only proof of LRIT compliance. The document, which is issued on completion of a successful test, is a mandatory requirement for radio surveys and inspection. This document is required to be kept onboard the ship.
To date, Pole Star has issued nearly 25,000 Certificates on behalf of over 90 Flags. Standard processing time is three days, but to assist ship operators with urgent requirements, Pole Star offers a Fast Track service, which allows for the Certificate to be issued within 24 hours.
Find out whether Pole Star certifies for your Flag
---
LRIT Hardware
Inmarsat C equipment already installed on the majority of vessels is frequently used for LRIT compliance. Dedicated terminals based on Inmarsat M2M and Iridium can also be used.
For maximum performance or where the existing onboard equipment is not suitable or a stand-alone LRIT solution is required, Pole Star recommends the installation of a dedicated LRIT terminal.
Pole Star offers a LRIT equipment package, directly or through our partners. Contact your closest distributor for more information.


Recommended Hardware
SSAS/LRIT Combination

The Thrane & Thrane SAILOR 6120 mini-C SSAS is based around a, self-contained and sealed Inmarsat mini-C terminal, housing both antenna and transceiver. This design approach has proven to be rugged and reliable regardless of vessel type and even under the most adverse conditions.

---

Global Inmarsat coverage
Multi-functional device
Operating temperature range -40° to +85° C
Inmarsat Type Approved

Brochure

SkyWave DMR-800LRIT

The dedicated SkyWave DMR-800LRIT terminal offers a cost-effective option for vessels where existing equipment is not suitable for LRIT purposes or where a stand-alone LRIT solution is required.

The pre-configured terminal means that there is no need for a technician to go on board and no delay in the unit functioning. Testing can begin as soon as the unit is installed and powered up.

---

Reliable, simple and secure, the Pole Star package has been developed to meet the needs of the ship operator: Compact, lightweight unit Simple system can be installed by crew Connect to ship's power supply (UPS 24V-DC) No paperwork to complete on board

Brochure

BlueTracker LRIT

BlueTraker LRIT fully complies with IMO regulations on Long Range Identification and Tracking and is the leading terminal for integration of Iridium terminals in LRIT systems on the market.

BlueTraker LRIT terminal transmits Automatic Position Reports (APR) using Iridium's efficient and cost effective Short Burst Data (SBD) service.

---

Certified for operating in temperatures down to -55 degrees C.
Integrated pre-heating element adds +15 degrees C to the inner housing temperature and prevents the device temperature dropping below - 40 degrees C when outdoor temperature is below -50 degrees C.
Comes complete with 50 m connection cable and all mounting accessories
Fully integrated device, with embedded GPS and Iridium antennas

Brochure